The Lakes Region 2016 Year End Residential Sales Report

THE LAKES REGION 2016 YEAR END RESIDENTIAL SALES REPORT
There were 106 single family residential home sales in December, 2016 in the twelve Lakes Region communities covered by this report. That number is up from the 92 sales posted in December 2015. The average sales price came in at $344,965 and the median price point was $222,500.
Overall, 2016 was banner year in my mind with 1294 single family home sales in our market towns. That's a 17.5% increase over the 1,102 sales in 2015 and far better than the 989 residential sales in 2015. The average sales price for 2016 came in at $332,624 which is  a little off  the $343, 497 posted last year, but what the heck, I'll take more sales and be happy. The median price point was up a bit to $227,500 over the $225,000 posted last year.
The total residential sales volume for the year was up from $378.5 million in 2015 to $430.4 million. That's about a 13.7% increase in dollar volume over last year. Not too bad! There were slightly fewer homes sold under the $100,000 mark but all other categories posted pretty good gains. The average time on market that it took to sell a home in 2016 was down a bit to 106 days compared to the 159 day average in 2015. This number is always misleading as many homes that sold were listed numerous times but the previous days on market are not factored in.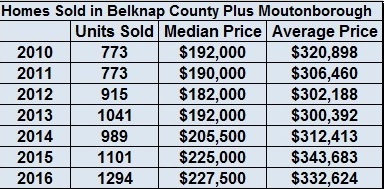 Laconia once again posted the most residential home sales with 257 transactions, followed by Moultonborough with 159, Gilford with 155, Alton with 143, and Barnstead with 126. Center Harbor had the fewest sales with 29. The towns with the highest sales average were Moultonborough at $532,1178, Meredith at $509,911, and Center Harbor at $480,442.  The towns with the lowest average sales prices were Tilton at $208,040, Barnstead at $187,037 and Gilmanton at $199,383.
Data compiled using the NEREN MLS system.