Location, Location, Address?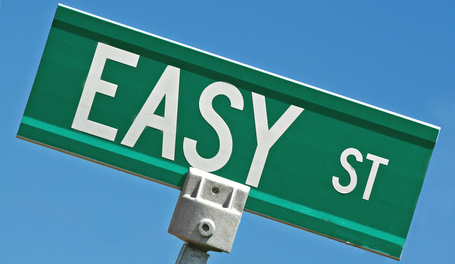 Everyone knows that one of the most important aspects of selling a property is its location. You can change a lot about a property but you can't change where it is. Obviously that location has a name; the street address. How important is the street address in terms of selling a property? Probably not very, except for being able to find the house that is.  It is just a name. But, it is interesting and sometimes amusing to look at some of the street names in the Lakes Region of NH.  Street names have many different origins and purposes. Some names tell you something about the location, the history of the area, some famous (or infamous) settler, a landmark, or where you are headed. Some names like Paradise, Tranquility, or Serenity Lane seem like they were devised just to promote the locale.
There is probably an Oak, Elm, Birch, Maple, School, North or South, Winter or Spring, Pleasant, Cottage, Reservoir, or Main St in every town (except Gilmanton, it doesn't have a Main St or a full time year-round tax paid library, so I've heard). Animal street names are also popular. I understand having Moose Walk, Fox Hollow Rd, Fish Cove Rd, Deer Dr, Deerhaven Rd, Deer Run, Deer Crossing, Bear Pond Rd, Beaver Dam Rd, Cat Path, Cat Alley, Loon Cove Rd, Chipmunk Circle, Irish Setter Lane, Eagle Shore Rd, or Falcon Way. But why Leopard's Leap, Panther Path, and Tiger Trail? Just trying to confuse or scare the tourists?
You can't help but realize that we are in Indian Country. With lakes named Winnisquam, Winnipesaukee, Squam,Wicwas, Pemigewasset and Waukewan it is pretty clear who lived here before us. Indian names have also carried over into street names in many communities. In Gilmanton we have Warbonnet Lane, Arrowhead Lane, Abanaki Path, and Mocassin Path. Moultonborough has Winaukee Rd, Iroquois Lane, and Wakonda Rd. Laconia has Winnisquam Ave and Weirs Boulevard and Meredith has Waukewan Ave, Sachem Cove, Winona Shores, and Wotanda Lane to name a few. I believe these streets and lakes were named so we could tell the locals from the flatlanders that can't seem to pronounce them.
You might think twice about living on some streets if only from the perspective of having to actually write them as your return address. Addresses like Moonshine St., Tee Dee Dr, and Grimstone Dr. in Belmont, Ta Da Dump Road in Holderness, Bumfagen Rd or Bee Hole Rd in Loudon,  might seem amusing at first but who is going to take you serious? Do you think living on Poor Farm Road in Gilford or Pot O'Beans Rd in Moultonborough might help on your tax return? I actually like the sound of living on Easy Street in Moultonborough, but I'd have to go down Shaker Jerry Rd. Was Jerry really a Shaker or where did this name come from? Somebody out there knows.
Can you tell anything about the housing in an area by a street name? Probably not conclusively, but you can tell some things. Obviously, streets on the waterfront roads often have the word "shore", "harbor", "cove" or some reference to water in the street name. But a house can be miles from the water on some streets. One waterfront address that is known pretty well around here is Edgewater Drive on Governor's Island in Gilford. The average sale for the past 3 years on that street comes in at $2.6 million. That street address is one that certainly does tell you a lot! View properties could be located on streets that include Mountain, Ridge, View, Vista, Heights,  or Hill as part of the address. But there is no hill on Hill St in Tilton. It is as flat as a pancake, plus you're on the water on that street. Then there is Pancake Hill Rd in Gilmanton. Go figure.
The Lakes Region Residential View Contest is underway so if you live in a home with a view send a photo of  it along with your contact information to my attention at roy.sanborn@sothebysrealty.com. Yes, waterfront views are also views! I'll post them at http://www.lakesregionhome.com/ and on May 13th we will pick the best view submitted. Judges will be Jen Serrano from Wells Fargo Mortgage, Wanda Keenan from Paramount Title, and Sheryl Foss from Image Appraisals. The winner will receive $100.00.