Lake Winnipesaukee and Lake Winnisquam Waterfront Market Report – 2009
My favorite Lakes Region Real Estate Market Report of the whole year is definitely the year end waterfront report. It is exciting to see what homes sold, where they were located, and how much they went for. I focus only on the sales on Winnipesaukee and Winnisquam because they have the bulk of the sales and therefore they are a pretty good barometer as to how well the market is doing. Waterfront sales are a big part of the local real estate market as well as being important to our local economy is so many ways. So how did 2009 stack up to years past?
Waterfront sales on Lake Winnipesaukee started pretty slow in 2009. There were only 30 waterfront sales (including island properties) in the first half of 2009 in the communities that border the big lake (Alton, Center Harbor, Gilford, Laconia, Meredith, Moultonborough, Tuftonboro, and Wolfeboro.) Sales did pick up steam in the second half of the year and we posted 46 more for a total of 76 sales on the year with an average sales price of $1,164,819. Moultonborough had the majority of the sales with 26 and Alton recorded 14 sales. Both Alton and Moultonborough had low average sales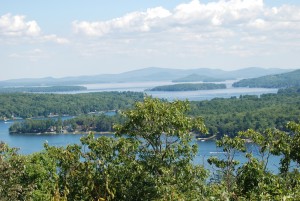 prices (although Laconia had the lowest average) which probably indicates that the availability of "affordable" waterfront properties led to a higher number of sales.
Winnipesaukee island properties are always an affordable option for buyers looking to get their little slice of paradise on the lake. A small two bedroom cottage on Moose Island in Alton sold for a mere $156,000 and a very nice three bedroom, two bathroom cape with .62 acres and 100 ft of frontage on Sleeper Island in Alton sold for $425,000 covering both ends of the pricing spectrum. If island living is appealing to you, 2010 should be a good year to find an affordable island vacation get-a-way.
There were also some good deals found on mainland properties. For example, in Alton a two story seasonal cottage that also included another studio cottage right on the lake sold for $120,000 (it was assessed for $311,800). It might not have been beautiful but for that price and 121 feet of frontage on Winnipesaukee who cares! Another affordable waterfront that sold was at 62 Driftwood Drive in Moultonborough. This 1972 vintage. three bedroom, one bath ranch with 100 feet of frontage and a 30 foot dock was assessed for $424,100 and sold for $335,000. In fact, there were 16 properties that sold between $300,000 and $500,000. On the upper end of the spectrum there were 26 homes that sold over $1 million. The top three were properties at 25 Gazebo Point in Wolfeboro at $5.98 million, 55
Broadview Terrace in Gilford at $6.5 million, and the highest sale ever on the big lake at 50-60 Wagon Wheel Trail in Meredith at $7.8 million.
Overall, we ended up the same as last year on Lake Winnipesaukee in terms of total sales. The average sales price of $1.176 million was down just a bit from the $1.218 posted in 2008 but pretty strong still when compared to the past 5 years.
Over on Lake Winnisquam, the total number of sales came in at 14 for the year. That is up from 2008 but still lower than the twenty or so that changed hands in previous years. The average sales price of $496,536 was the lowest it has been in the past five years and confirms that there were some good deals found on the lake over the past year. Properties on Winnisquam are always a bit more affordable than those on the big lake. The least expensive property this past year on Winnisquam was a seasonal two bedroom cottage with 114 feet of frontage at 118 Gray Rd in Sanborn which was assessed for $452,100 and originally offered at $449,000 that sold for
$340,000. The highest sale was a fourteen room, six bedroom, 4,572 square foot contemporary with 170 feet of frontage at 87 Collins Brook Rd in Meredith that brought $740,000.
While 2009 was not one of those banner years for waterfront sales in the Lakes Region, considering the overall state of the economy, it was a pretty solid year. Given the rebound in the stock market and a little better outlook on the part of many people, 2010 should be a stronger year for vacation, water access, and waterfront sales.
IF  YOU ARE INTERESTED IN RECEIVING FREE ADDITIONAL DETAILED INFORMATION ON THE LAKES REGION WATERFRONT SALES AND ONGOING UPDATES THAT WILL KEEP YOU INFORMED ON THE VALUE OF YOUR WATERFRONT INVESTMENT JUST CLICK ON THE FOLLOWING BUTTON…