The Farley Garrison House - Circa 1665
Home owners and real estate agents alike often try to promote their properties as special, unique, and one of a kind when trying to sell them. It's part of the real estate game. Many homes don't really live up to their billing even though they could be very, very nice. Ever so rarely you get one that does, although this is the first time that I have seen a property that far exceeds any of the superlatives I could possibly use. Don't believe me? If you are in the market for a truly unique and special property then you owe yourself the opportunity to explore this residence. You will not be disappointed.

Although the George Farley House may look like it has been a part of the Gilmanton, NH landscape for centuries it actually, along with the other amazing structures here, was painstakingly reconstructed on this site just recently. Originally built in 1665 in Billerica, Massachusetts, this Pilgrim era saltbox garrison home had remained in the same family for 12 generations. Believed to be one of the oldest homes in the country, it was carefully dismantled in 2000, stored, and subsequently moved to this breathtaking view property on top of Frisky Hill after being purchased by Gilmanton resident, Douglas Towle.
It should be noted, the main house was not the first antique structure to be placed here. And, considerable thought and planning went into this amazing piece of property before any construction was started on any of the buildings. Doug purchased this relatively flat twelve acre parcel of land and reshaped the lot to create a hill on which to place this special home. In the process he dramatically enhanced the already amazing panoramic mountain views. After the lot was graded to proper contours, a country road lined with picturesque stone walls was constructed to access the property.


Once all the site work was completed, an 1800's barn, water tower, and corn crib, a colonial era ell and carriage house, plus a charming 1700's one room school house were all re-constructed one at a time and board by board by renowned local craftsmen. Each of these structures are architectural showpieces themselves. While you most likely will not conduct classes in the one room school house, Doug's thought was that it would make a charming guest cottage or studio for whomever makes this their home. The barn and carriage house are very functional and showcase their centuries old massive timbers. The water tower provides vistas that are more astounding than you thought possible. Once these buildings were finished, the meticulous restoration of this vintage landmark home began in earnest and was completed in 2010.
The original residents could have never envisioned the modern amenities installed in this amazing home. The modern country kitchen has a Sub-Zero refrigerator and a Viking gas stove but has retained the period look with soapstone sinks and cabinetry made from hand planed panels. A breakfast nook has large windows that provide pleasant views of the expansive back yard and water tower. Clearly, the most important upgrades must be the running water in the kitchen and the four bath rooms which are something our ancestors did without!


The lean-to portion of the home showcases the original kitchen complete with a six foot high fireplace, gunstock corners, and brick floors. As in most all homes of this period, just past the kitchen is a small borning room. While you may not be inclined to use the borning room for its originally intended purpose, it makes a cute bedroom or reading room.
The first floor garrison room currently serves as an elegant dining room with its own fireplace and original, never-painted paneling and hard pine flooring. At the front of the home, a bump out foyer showcases the original stairway, leaded glass windows, and a double thick barricade door. What was once the parlor now serves as a first floor master bedroom that features its own bath, fireplace, hand troweled plaster walls, old red paneling, gunstock corners, and wide pine flooring.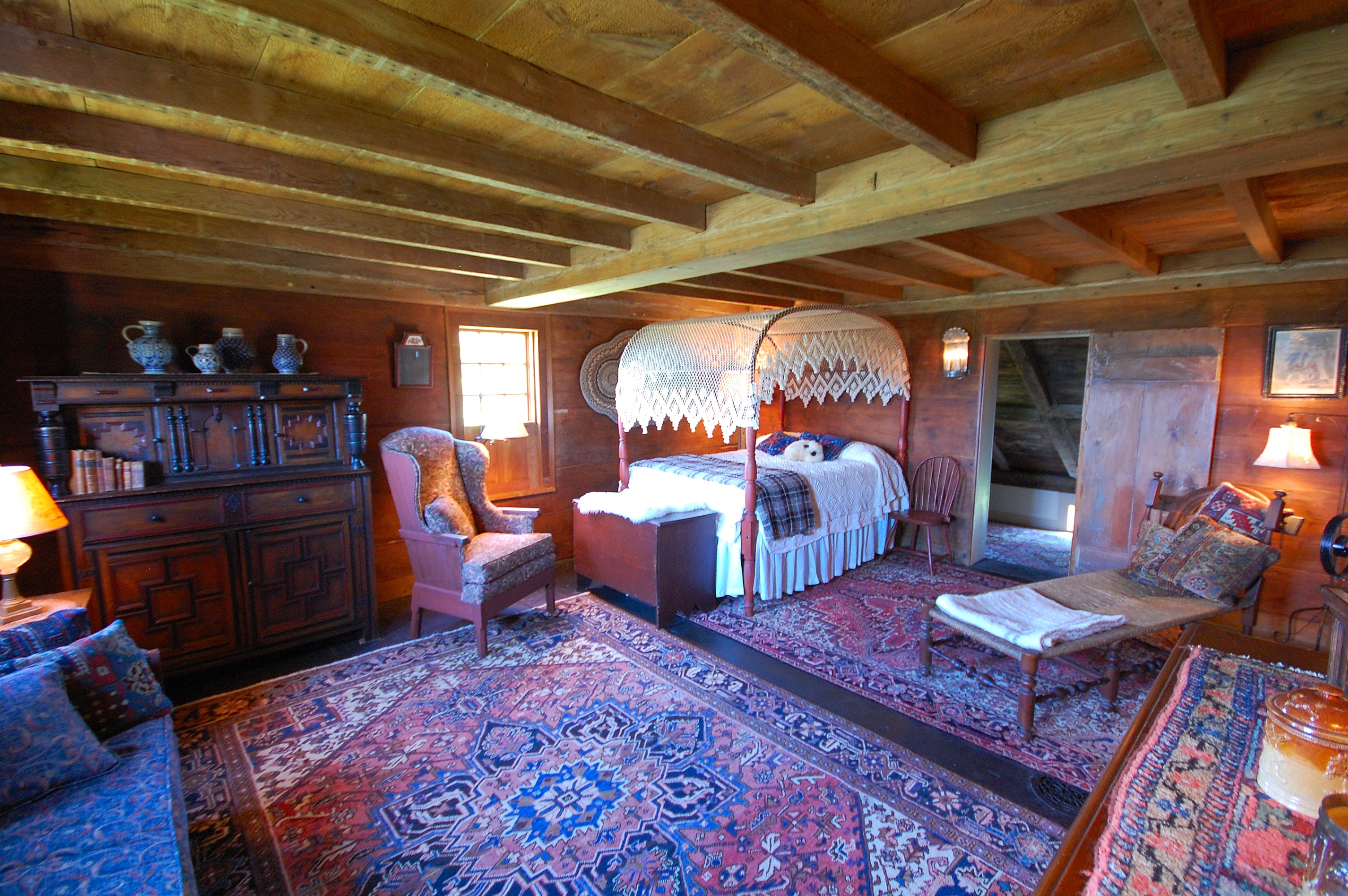 Upstairs two spacious bedrooms also have fireplaces, original unpainted wide pine flooring, and charming baths tucked under the slope of the shed roof. An entertainment room features hand stenciled plastered walls and antique flooring. The home sets on a full concrete and granite foundation and has modern in-floor radiant heat, air conditioning, electrical systems, and even a whole house surround sound system.
The real marvel of this property is that everything in this home is original and correct for its period; from the wide pine floors, oak framing, and raised paneling to the five fireplaces, Indian shutters, gunstock corners, and original hardware. Even old hand cut nails were utilized to keep these buildings as authentic as possible.
This masterpiece restoration along with its ancillary structures artfully blends pristine historic architecture with modern conveniences making this a uniquely livable, comfortable, and completely manageable residence. It has never been lived in and awaits a special buyer looking for a truly one of a kind opportunity. Historically significant homes add their own lives to yours in a way a newly constructed residence never can. The George Farley House has a storied past and timeless appeal that will make your life here extraordinary!